Shusha Walmsley MAR MCH RSHom – Registered Homeopath and Reflexologist.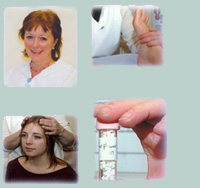 Homoeopathic consultations are also available by Skype, WhatsApp, and phone.
Shusha has been practising Homoeopathy (a safe, non invasive form of medicine that works by helping the body to heal itself) since June 1991, Shusha has gradually developed her skills to include; Reflexology qualified in 1995 ( a complementary therapy which works on the feet to help balance the whole person and not just the symptoms), Allergy Testing qualified in 1996 and Indian Head Massage qualified in 2001 (a gentle therapy that can help to achieve complete relaxation and a sense of well being).
More recently Shusha has learnt extra skills.She qualified in Reiki Two on January 14th 2011 and has been helping people with Reiki since then. Shusha qualified as a Reiki Master in 2013 and can now attune people to Reiki.
In February Shusha started to study The Virtues project as the ideas may help to empower her patients. She trained as a facilitator in June 2012.
Shusha has her own therapy centre in Kettering, Northants and also works in Medical Centres in and around the Northamptonshire area and also Rutland.
Shusha also runs day courses on a Saturday, to help people in all walks of life to develop their intuition. In particular she runs courses for business people which aid the corporate world to understand their employees and customers better. Please ask for more details.
Shusha's particular interests include: Infertility, children's ailments, and the problems of special needs children. She also enjoys singing and performing in choirs and therefore loves to offer singers support in maintaining their voice health and general well being.
"Homoeopathic treatment " means an analysis of your case and suggestions for an indicated homoeopathic remedy. In the case of Reflexology, Indian head massage and Allergy Testing it means an analysis and subsequent Massage or test
For enquiries and information please telephone 01536 516220/ 07929128537.
Or email me on This email address is being protected from spambots. You need JavaScript enabled to view it.
http://www.homeopathy-soh.org/whats-new/research/evid/clinical-trials.aspx
With the new General Data Protection Regulation coming into force on the 25th May, please read my privacy policy and data protection policy which explains exactly how and where your data will be used and why.